In the spring of 2023, I was browsing through one of the popular affiliate marketing forums and I came across an interesting case study. It was posted by a newbie affiliate who was sharing his not-so-great experience with launching his first advertising campaigns in push format. He described all the challenges and struggles he faced, and it was quite eye-opening!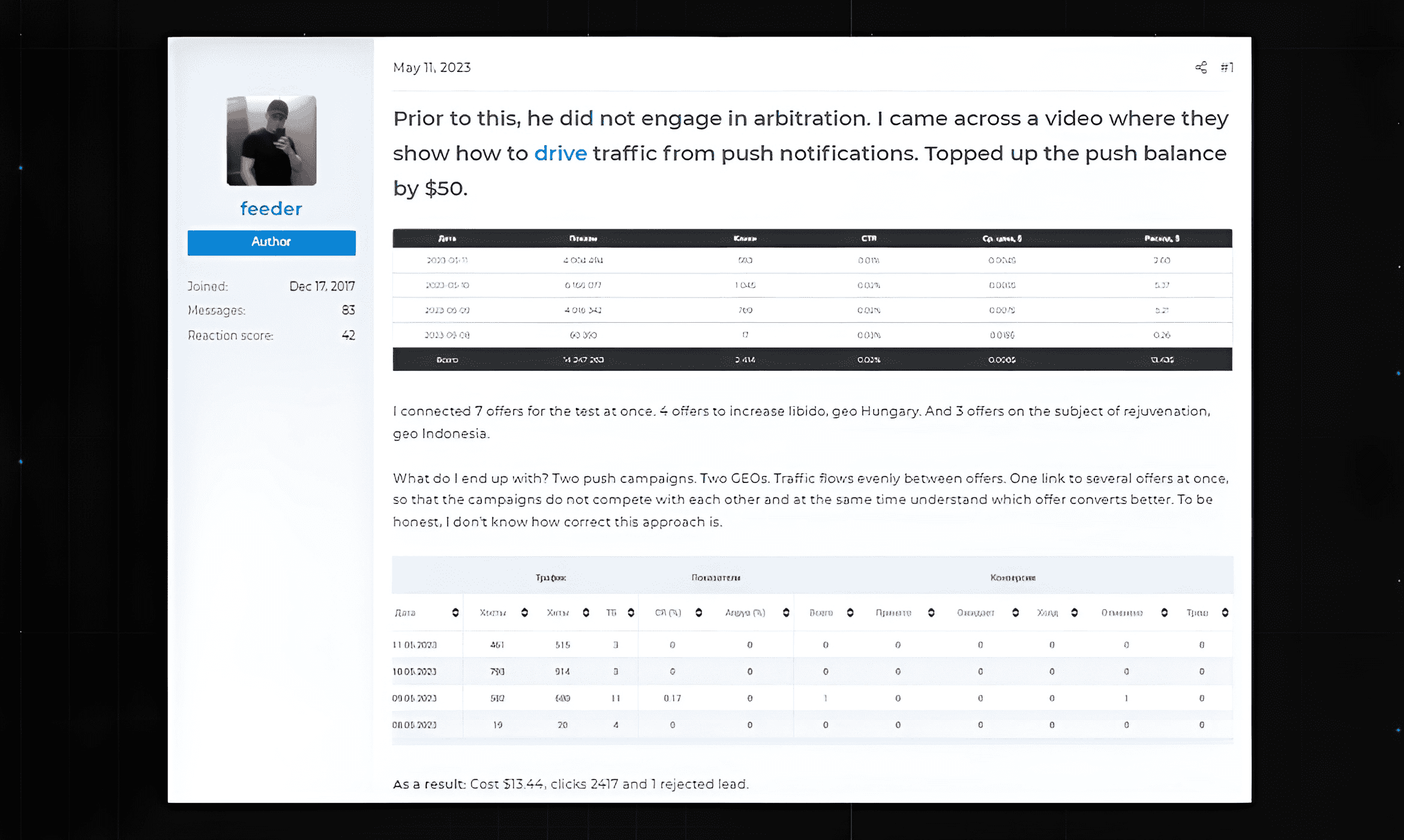 Drawing inspiration from this negative case study, we decided to analyze several common mistakes made by beginners that lead to burning their budgets without generating a single lead. Additionally, we will provide recommendations that can help even newbie affiliates turn a profit.
Introductory information from the author of the case study:

The newbie affiliate mentioned that he ventured into push notification traffic for the first time after watching a YouTube guide. He started with a $50 balance in the advertising network and decided to launch two test campaigns for 7 Nutra offers in two GEOs. He chose to create two smartlinks that contained the offers with the format below (each smartlink was promoted in a different GEO):
Four offers from the male enhancement category to Hungary.

Three offers from the health supplements category in Indonesia.
Within 4 days, the total spend for both campaigns was $13.44. There were 2 417 clicks and only 1 rejected lead.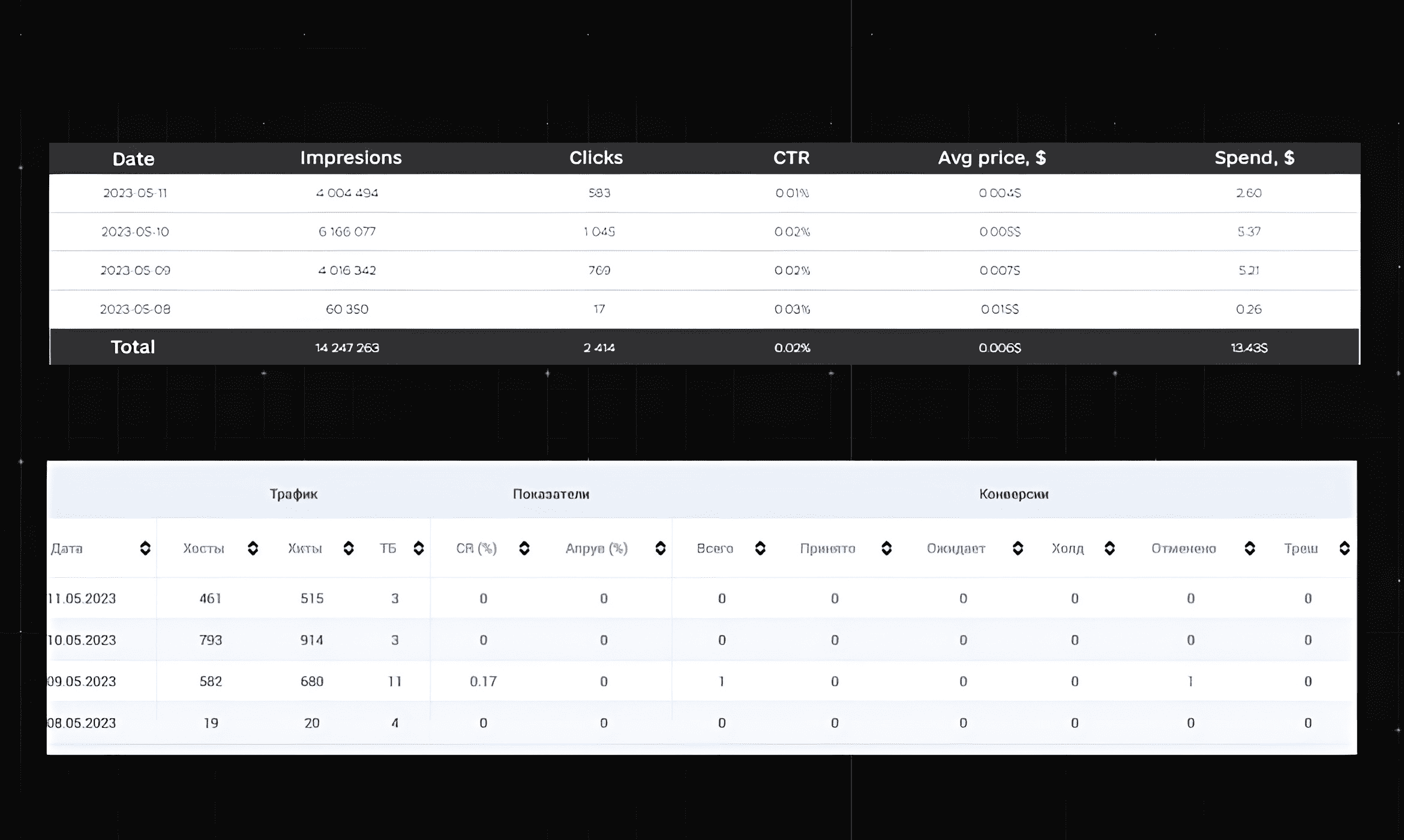 On the fifth day, the cost of the advertising campaign for Hungary was $9.82, but it only resulted in 655 clicks from 2 667 539 impressions (CTR: 0.025%).
The Indonesian traffic was a lot more and way cheaper. The affiliate spent $6.98 in 5 days, receiving 2,327 clicks from 14,916,065 impressions (CTR: 0.016%).
After 5 days of launching advertising campaigns, the affiliate decided to also try the dating vertical by choosing the "Call Me Hottie" CPA offer. He targeted all available GEOs in the offer, including Bangladesh, Pakistan, Nigeria, and Kenya. The maximum allowable payout for registration was only $0.25. In total, $1.44 was spent on the offer, but there was not a single lead.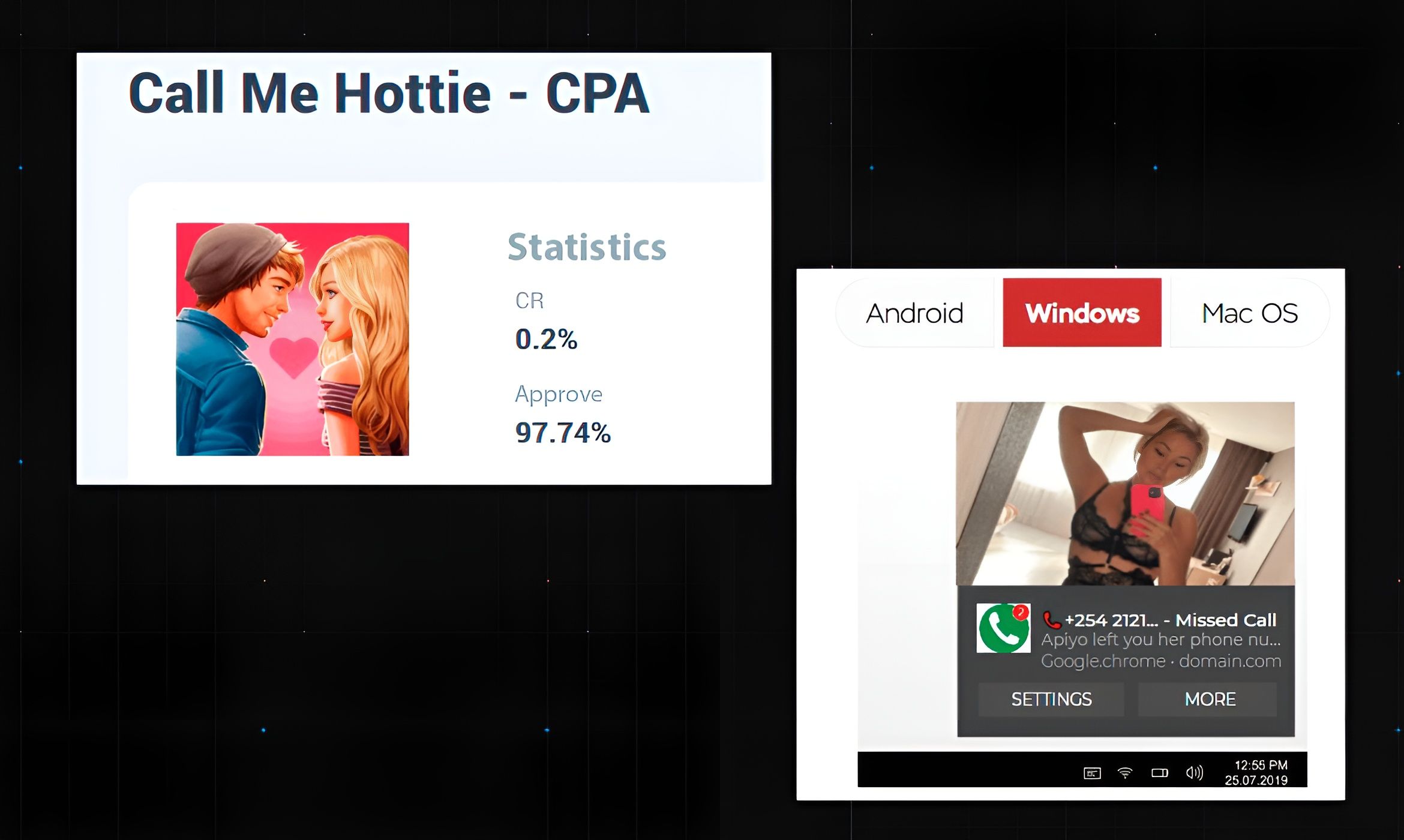 On the same day, the affiliate turned off the campaigns and switched to promoting a male enhancement offer in Mexico, as he discovered a new offer added to the affiliate program the day before. He placed his main bet on the fact that the offer was new. Although he did not specify the GEO he was targeting, none of the offers generated a single lead in less than 6 days.
The newbie affiliate decided to change his approach and implemented blacklists. He focused his efforts on one offer and prepared 3 creatives using ChatGPT. This effort resulted in an increased CTR and 8 leads, with 2 of them rejected and 6 more awaiting approval.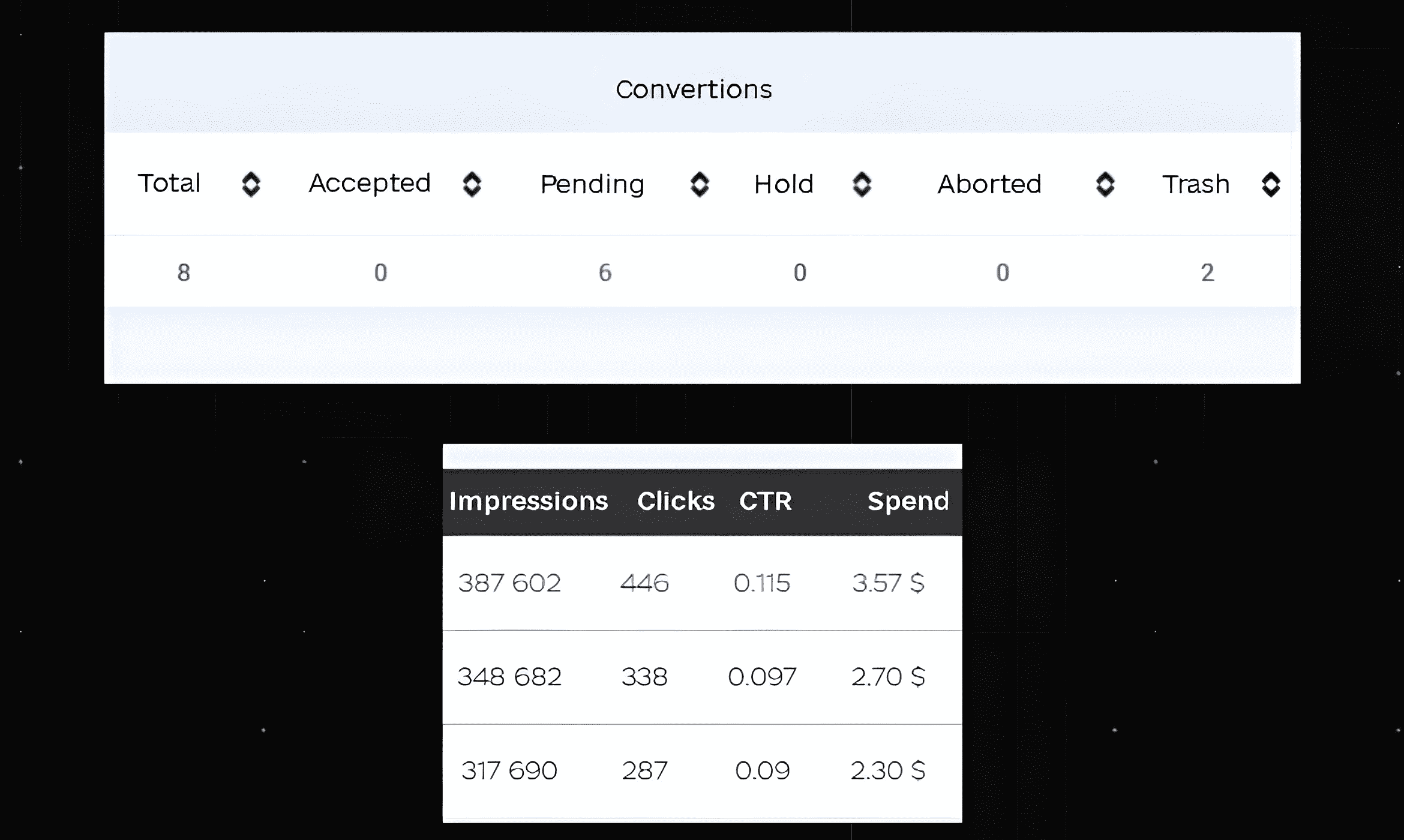 Over the next 1.5 months, the affiliate continued investing in various advertising networks, testing different offers, GEOs, and affiliate programs. He was primarily making decisions based on his gut feelings and preference for promoting dating verticals. He tested various dating offers in different GEOs, including Spain, Latam, USA, UK, Germany, Sweden, and others. However, the results were disappointing.
For example, working with a US dating offer, he spent $5.11 for 1 000+ clicks but didn't get any conversions. He only used two creatives which were outdated.
Below is an example of one of the creatives and the statistics for each of the two creatives he used.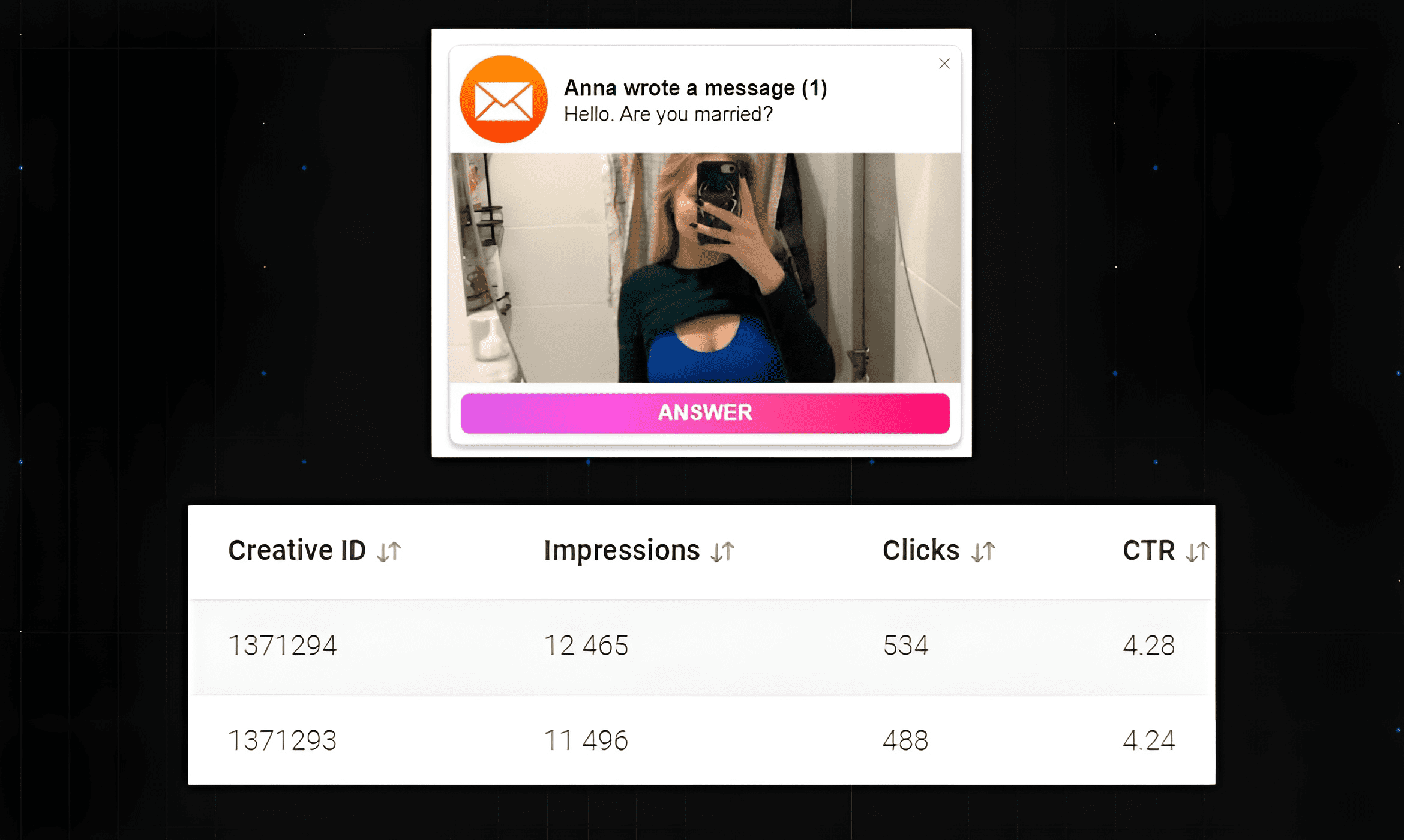 Eventually, after nearly a month of testing push notifications, the newcomer decided to integrate a tracker to monitor individual events and compile blacklists of sites with bots.
He also said that in almost all the creatives he used only English and images from stock photos.
In total, the affiliate spent $200.31 on two ad networks, received 59,047 clicks, and got 93 leads which brought in $20, resulting in a loss of $179.71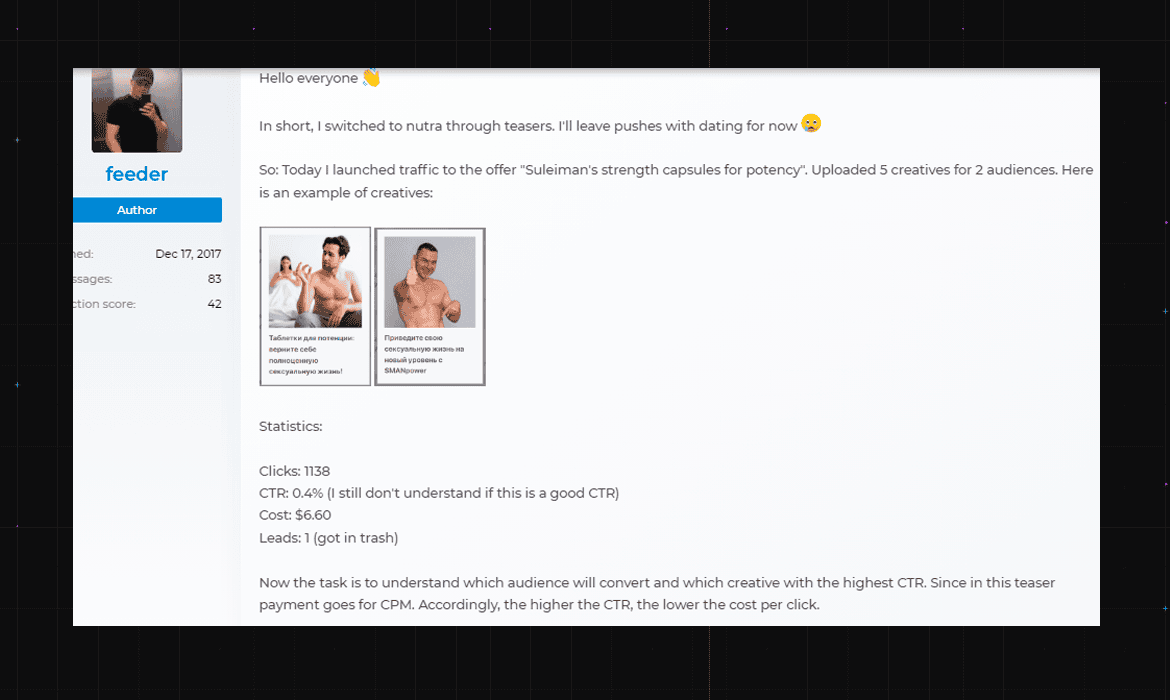 After this negative experience, the newbie abandoned push notifications and started testing teaser networks, but at the time of writing this article, he was still experiencing losses.
Common mistakes and advice for maximizing profits when working with push notifications

Having analyzed the situation described by the newbie in the case study above, the team from MyBid, a fully-managed advertising network, compiled a list of the mistakes he made and their resolutions.

Mistake 1: The affiliate began sending traffic to multiple offers across different verticals simultaneously, without prior communication with the affiliate manager. This prevented him from getting insights and guidance from the manager who could have advised him based on previous proven statistical data.
Answer: To improve your chances of profitability, it's important to communicate with the affiliate manager and ask for a list of GEOs and offers with the best conversion rates over the past few days before launching campaigns.
Mistake 2: Not doing prior research on the features of the GEO, the mentality of the local audience, and the offer itself.
Answer: Before depositing funds into the advertising network and coming up with new ad creatives, take some time to study the unique characteristics of the target GEO, the preferences of the local audience, time zones, and other relevant factors. If you're short on time, consult the affiliate manager for this information.
Mistake 3: Immediately sending to traffic to a smartlink, collecting 3-4 completely different offers into one link.
Answer: Avoid including all your offers in one smartlink, especially during split testing. It's better to create separate campaigns for each offer to obtain more accurate statistics, considering the differences between creatives and landing/ pre-landing pages.
Mistake 4: The affiliate used only one common creative for several offers.
Answer: Prepare 3-5 different creatives for each offer. Maintain a consistent style and messaging on the landing/pre-landing pages. Additionally, refresh your push notification creatives every 2-3 days to avoid burnout.
Mistake 5: It wasn't until the third attempt at the test that the affiliate started compiling blacklists of irrelevant and bot sites.
Answer: Compile lists of irrelevant and bot sites as soon as you can, using primary statistics. In a fully-managed network like MyBid, you can even ask your personal manager to help you select the most relevant sites for your offer or GEO during the campaign setup.

Mistake 6: Only a month after the start of the tests, the affiliate decided to connect a tracker to track the statistics of events in their ads.
Answer: Despite having some statistics displayed in the personal account and advertising networks, using a tracker allows you to access more advanced statistics for each advertising campaign and optimize your performance. It also helps in identifying sites with a large number of bots.
Mistake 7: I chose advertising networks based only on ratings in affiliate marketing blogs, where a place at the top can easily be bought for $100-200 per month. As a result, I spent the budget on bot clicks.
Answer: When selecting an advertising network, consider the experiences of other affiliates, the personal manager's interest in the success of your campaigns, and the network's own sites. In fully-managed networks like MyBid, more than 90% of all sites (including Tier-1 GEOs) belong to the network itself, and personal managers are highly motivated to make advertising profitable for you.


Conclusion

Due to their simplicity and low starting cost, push notifications are often the go-to for newcomers in the affiliate marketing space. However, many newbies tend to overlook crucial aspects of affiliate marketing such as campaign optimization, choosing the right creatives, and using a tracker. As a result, during the testing phase, they end up wasting anywhere from $100 to $1,000 and only get 2-3 leads at low payout rates. This disappointment leads them to believe that push notifications don't work.
But with the emergence of fully-managed networks that feature their own proven sites in top GEOs and have experienced personal managers that work hand in hand with affiliates to ensure that they make profits, it has become much easier for all affiliates to generate profits through Push notifications.